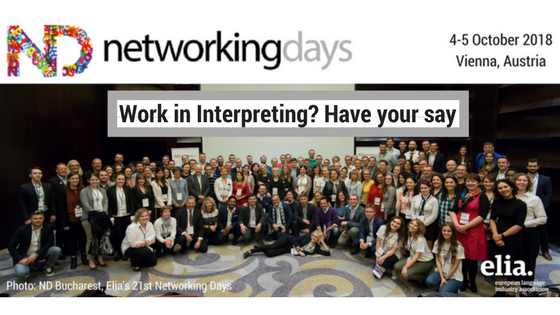 Work in Interpreting? Have your say on the content at ND Vienna
The Elia team are busy preparing for ND Vienna, Elia's 22nd Networking Days event on the 4-5 October 2018 in Austria. We are currently designing the content for the various event streams and agenda. The ND Vienna committee are keen to hear from members of the interpreting community on their views on content for the event. Please take 5 minutes to complete this short survey on the Interpreting content for the event, so we can endeavour to provide the most appropriate content to your needs in Vienna.
Call for Papers for ND Vienna closes within a week!
Need some inspiration? You could share…
A case study from your business or local market
Business insights and concepts you feel are important
Future trends or developments that you've spotted
Successful strategies from our sector or even outside
Expertise and research that you have developed or curated
Ideas and innovation!