GORR, d.o.o.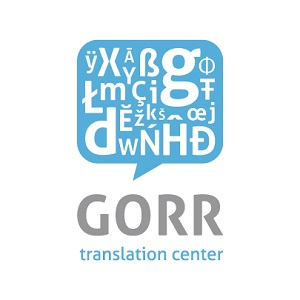 About Us
We are GORR, your friendly, helpful, international translation company.

We offer you a set of language services, from translation, revision, and language quality assessment, to MT post-editing, on-site or online interpreting.

With a network of native linguists, complemented by a skilled and friendly in-house team, GORR helps local and international businesses reach global markets, localize their content and speak the language of their target audience, no matter the field and expertise required.

As a multilingual provider, GORR is a one-stop shop for businesses and other translation companies that value their time and require support for all European and major world languages without compromising quality.

With many translation providers out there, what sets GORR apart from the crowd?
- 24/7 availability
- Swift communication
- True partnership and tailored solutions
- High responsiveness and short TATs

Which languages can GORR help you with?
*THE BALKAN GROUP OF LANGUAGES
*CEE LANGUAGES
*SOUTH-EASTERN LANGUAGES
*ANY OTHER LANGUAGE, ON REQUEST

Which services can GORR offer?
• Translation
• Certified Translation
• Editing & Proofreading
• Translation & Editing
• Localization
• Interpreting
• Live Interpretation
• Software Translation
• Website Translation
• MT & MTPE
• Other Language Services

Which industries/sectors can GORR help you with?
• Accounting & Finance
• Automotive
• Business
• EU
• Engineering & Construction
• IT & Telecommunications
• Health care
• Life sciences
• Law
• Marketing
• Medical devices
• Patents
• Retail & E-commerce
• Technical
• Travel & Tourism
• Any other industry/sector, on request
The core service areas we operate in are Translation, Localization, Interpreting, Editing, Glossaries / Dictionaries / Terminology, Interpreting equipment rental, Machine Translation, Machine Translation Post Editing, Software Localization, Telephone interpreting and Transcreation.
Working Languages
The sectors and industries we specialise in would be Financial / Banking / Accounting, Legal / Patents, Marketing / Communication, Medical, Technical / Engineering / Manufacturing, Tourism / Travel / Hospitality, Banking / Finance / Accounting, Business / HR, Construction / Manufacturing, Consumer Products, E-commerce, Legal / IP / Patent, Marketing / Communications, Medical / Pharma / Healthcare, Packaging / Distribution, Software, Games / Entertainment, IT, Automotive, Education / Training, Energy / Utilities, Entertainment / Gaming, Government, Information Technology, Non-profits and Other.