NLG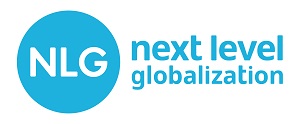 Main Office NLG Ludwigstrasse 47 85399 Hallbergmoos, Bavaria Germany Representative Michael Oettli, Managing Director Contacts https://www.nlgworldwide.com info(at)nlgworldwide.com +49 811-99868820 Our Other Offices Greece, Thessaloniki 3, Nikiforou Ouranou Str. info(at)nlgworldwide.com + +30-2310-502192 USA, Jupiter, Florida 601 Heritage Dr, Suite 145 info(at)nlgworldwide.com + +1-561-214-8155 Japan, Shinjuku-ku, Tokyo 8-7-202 Yotsuya Honshio-cho info(at)nlgworldwide.com + +81-3-6380-1478
About Us
Next Level Globalization is your dedicated partner for innovative localization services and international business projects.

At NLG, we pride ourselves on being more than a language service provider, but rather a language strategy partner. We have the experience to understand what it takes to be understood, and we're ready to help take your business's globalization strategy—to the next level!

We are a full-service localization leader, providing a wide range of services to clients in the Life Sciences industry. When you work with NLG, you'll benefit from two decades of unparalleled experience in translation and localization, workflow management, process design, and development of customized tools—all with an industry leading, personalized approach.

With customized technology solutions, an experienced team, and a proven track record, NLG can help you share your business's message with the world.


The core service areas we operate in are Machine Translation, Localization, Machine Translation Post Editing, Terminology Management, Translation, Transcription, Multimedia Localization, Internationalization, Content Development, Consulting, DTP, Software Localization, Compilation & Engineering, Globalization Management System, Glossaries / Dictionaries / Terminology, Editing, Multilingual Digital Marketing, QA Testing, Subtitling and Captioning, Testing and Validation, Tools or Technology Development, Transcreation and Voiceover and Dubbing.
Working Languages
To
Albanian
Arabic
Armenian
Belarusian
Bengali
Bosnian
Bulgarian
Catalan
Chinese
Croatian
Czech
Danish
Dutch
English
Estonian
Farsi
Finnish
French
French (Canadian)
Georgian
German
Greek
Hebrew
Hindi
Hungarian
Icelandic
Indonesian
Italian
Japanese
Kazakh
Korean
Latvian
Lithuanian
Macedonian
Malay
Maltese
Norwegian
Polish
Portuguese
Portuguese (Brazilian)
Romanian
Russian
Serbian
Slovak
Slovenian
Spanish
Spanish (Latin American)
Swedish
Thai
Turkish
Ukrainian
Urdu
Vietnamese
↓ See all 2 to and 53 from↓
The sectors and industries we specialise in would be Medical / Pharma / Healthcare and Medical.