Asian Trust Translation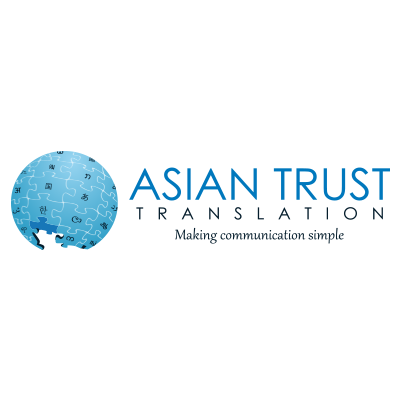 Main Office Asian Trust Translation No 47-49-51 Le Van Thiem, Hung Phuoc 3, Phuong Tan Phong, District 07 Ho Chi Minh City Viet Nam Representative Collwing Watanabe, CEO Contacts http://www.asiantrust.net info@asiantrust.net ++842862719291/ +84888731918 shenhaai
About Us
Founded in 2005, with nearly 21 years of experience in the translation industry, we offer Multilingual Translation, Interpretation, and Localisation with over 120 language pairs. We have over 2000 local and overseas clients with thousands of translation projects; Asian Trust is one of the Top Translation Service Provider in Asia.
The core service areas we operate in are Translation, Localization, Interpreting, Voiceover and Dubbing and Machine Translation.
Working Languages
From
English
German
French
Italian
Spanish
Arabic
To
Vietnamese
Japanese
Chinese
Thai
Filipino
Malay
Montenegrin
Korean
Hindi
↓ See all 6 to and 9 from↓
The sectors and industries we specialise in would be Business / HR, Automotive, Financial / Banking / Accounting, Games / Entertainment, Legal / Patents, Marketing / Communication, Medical, Technical / Engineering / Manufacturing, Tourism / Travel / Hospitality, Banking / Finance / Accounting, E-commerce, Construction / Manufacturing, Entertainment / Gaming, Medical / Pharma / Healthcare, Telecommunications, Software and Other.