birotranslations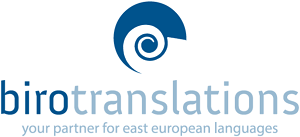 About Us
birotranslations is one of the leading translation companies in Slovenia. The quality of services provided since 1992 and scope of work has ranked us as indispensable partner for clients operating on Eastern European markets. We offer translation, localisation, interpreting, editing, court translations, voice over and subtitling. We put quality first, so the translation process is done according to ISO 9001 and ISO17100 standard. We're also professional members of ALC and a founding member of Slovenian Association of Translation companies, registered at Chamber of Commerce and Industry of Slovenia.
Our main area of expertise is Translation.
Working Languages
From
English
German
French
Italian
Spanish
To
Slovenian
Croatian
Bosnian
Serbian
Montenegrin
Albanian
Bulgarian
Romanian
Slovak
Czech
Polish
Russian
Ukrainian
↓ See all 5 to and 13 from↓
The sectors and industries we specialise in would be Automotive, Business / HR, Financial / Banking / Accounting, IT, Legal / Patents, Marketing / Communication, Medical, Sciences, Technical / Engineering / Manufacturing, Consumer Products, Construction / Manufacturing, Government, Information Technology, Legal / IP / Patent, Marketing / Communications, Medical / Pharma / Healthcare, Software, Telecommunications and Tourism / Travel / Hospitality.