MZANSI COMMUNICATIONS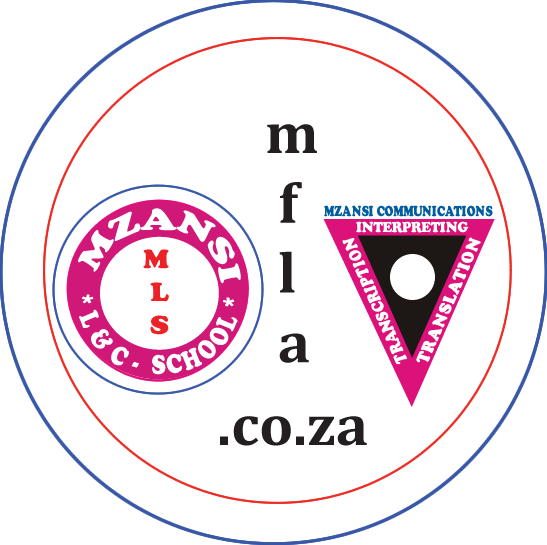 About Us
For Conference Simultaneous Interpreting, Document Translation Services in South Africa For French, English, Portuguese, German, Spanish, Chinese, Russian Covering Cape Town, Pretoria, Sandton, Johannesburg, Durban

Founded in 2008, Mzansi Communication herewith registered as Mzansi Foreign Language Interpreters Agency is a leading South African based professional Language service provider with over 12 years of customer-focused Language services, delivery to Government Departments, NGOs, Corporate Clients and Private Individuals.
Mzansi Communication is 100% female owned, Level 1 B-BBEE accredited company and is an accredited Member of the South Africa Translator's institute with Membership Number: 1003539 which adheres our company to strict code of conduct and ethics in proving Transcription Services, Translation, Recording and Interpreting services in dealing with any clients.
We have a large network of qualified and experienced translators and conference interpreter in and around Johannesburg, Pretoria, Durban and Cape Town, East London, Port Elizabeth.
Our network covers every language combination and includes:
Interpreters, Translators

Our core services include the following;
Professional Document Translation Services
Our skilled team of Professional translators translates from all major Foreign Languages including French/English and vice versa, Portuguese/English, Arabic/English, German/English, Spanish, and into all 11 official South African languages as well as European, Asian and other African languages. We provide translation for all your documentation needs. Examples of common content pieces that require translation include:
• Technical Documents
• Legal Documents
• Professional Documents
• Business Documents
• Medical & Scientific Documents
• Marketing &Websites Documents
• Birth Certificates
• Declarations
• Contracts
• Legal Judgments
• Immigration Documents
• Medical Records
• Patient Instruction and Signage
• Intake Forms
2.2. Interpreting Services
We provide South African and international languages interpreters for meetings, seminars and conferences. We offer simultaneous and consecutive interpreting with equipment.
LANGUAGE COMBINATIONS
ENGLISH/FRENCH & French/English
English/Portuguese/ & Portuguese/ English
English/German & German/English
English/Spanish & Spanish/English
English/Arabic & Arabic/English
English/Chinese & Chinese/English
English/Russian & Russian/English
English/Italian & Italian/English
English/Hindi & Hindi/English
Sign Language Interpreting
English/Africans & Afrikaans/English
English/IsiZulu & IsiZulu/English
English/IsiXhosa & IsiXhosa/English
English/Swahili & Swahili/English
All Other South African Official Languages
Other Indigenous African Languages
And many more…

2.3. Simultaneous Interpretation Equipment for Hire
We offer equipment for simultaneous interpretation, discussion microphone systems and audio-visual equipment for hire.
Interpreting Equipment's
Booths
Microphone
Transmitter/receivers
Headphone/headset
Interpreter

2.4. Recording and Transcription Services
We provide South African and international languages Transcription and Recording Services for disciplinary hearings, meetings, seminars and conferences with all the necessary equipment including but not limited to PA system, Microphones, Stenography. We transcribe audio/ Video recordings and Recording of any size of meeting.
LANGUAGE COMBINATIONS
Video Transcription
Audio Transcription
Verbatim Transcription
Subtitling

2.5. Conference Management
Our network of service providers will assist you to organise your conference from start to finish.
Our Regional Office is based in the beautiful city of Cape Town at the foot of Table Mountain in South Africa where many cultures blend, we work throughout sub-Saharan Africa in collaboration with translators and clients from all over the world.
The core service areas we operate in are Translation, Localization, Interpreting, Voiceover and Dubbing, Content Management Systems, Content Development, Copywriting, Cross-Cultural Consulting, Editing, Interpreting equipment rental, Telephone interpreting, Training Services and Transcription.
Working Languages
The sectors and industries we specialise in would be Business / HR, Financial / Banking / Accounting, Games / Entertainment, IT, Legal / Patents, Literary / Art, Marketing / Communication, Medical, Sciences, Technical / Engineering / Manufacturing, Tourism / Travel / Hospitality, Aerospace, Automotive, Banking / Finance / Accounting, Construction / Manufacturing, Consumer Products, E-commerce, Education / Training, Government, Graphic Arts, Energy / Utilities, Industrial Automation, Information Technology, Legal / IP / Patent, Literary, Marketing / Communications, Medical / Pharma / Healthcare, Non-profits, Packaging / Distribution, Science / Research, Software, Telecommunications and Other.