The Translation Gate LLC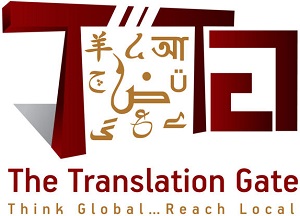 About Us
Driven by a passion for language and its power to break barriers between cultures, our translation-and-localization agency was born in 2009 through the collaboration of thousands of translators and other service professionals.
Thus, we provide localization and internationalization services in more than 160 languages and 1,500 combinations, all in compliance with the ISO 9001:2015 standard for quality management systems, the ISO 17100:2015 standard for translation services, and the SAE J2450 translation quality metric for optimal language and industry-specific results. We serve hundreds of industries, organizations, and independent entrepreneurs in the USA, Europe, Asia, and Africa.

Today, we're the leading translation-and-localization agency in the USA. We do what we love most, which is to bring people together.
We combine the project management and production skills of experienced in-house staff with the expertise of tested, certified translators in a wide range of languages to bring you the very best in translation & localization, DTP, and multimedia services.
We are available 24/7 all year days. So, when you're ready to achieve the next level of fluency, come meet us at The Translation Gate. We think globally . . . act locally.
The core service areas we operate in are Translation, Localization, Subtitling and Captioning, Interpreting, Voiceover and Dubbing, Artwork & Screen Shots, Content Development, Copywriting, DTP, Editing, Machine Translation Post Editing, Machine Translation, Multimedia Localization, Multilingual Digital Marketing, QA Testing, Software Localization, Transcreation and Transcription.
Working Languages
From
English
Arabic
German
Turkish
Russian
Urdu
Spanish
French
Belarusian
Bengali
Bulgarian
Chinese
Croatian
Czech
Dutch
Farsi
Hebrew
Hindi
Indonesian
Italian
Japanese
Korean
Lithuanian
Latvian
Norwegian
Polish
Portuguese
Portuguese (Brazilian)
Romanian
Swedish
Thai
Vietnamese
Other African
Other Asian
Other European
To
Afrikaans
Albanian
Arabic
Armenian
Aymara
Basque
Belarusian
Bengali
Bosnian
Bulgarian
Catalan
Chinese
Croatian
Czech
Danish
Dutch
English
Estonian
Farsi
Filipino
Finnish
French
French (Canadian)
Georgian
German
Greek
Guaraní
Hebrew
Hindi
Hungarian
Icelandic
Indonesian
Italian
Japanese
Kazakh
Korean
Latvian
Lithuanian
Macedonian
Malay
Maltese
Norwegian
Polish
Portuguese
Portuguese (Brazilian)
Romanian
Russian
Serbian
Slovak
Slovenian
Spanish
Spanish (Latin American)
Swahili
Swedish
Thai
Turkish
Ukrainian
Urdu
Vietnamese
Other African
Other Asian
Other European
↓ See all 35 to and 62 from↓
The sectors and industries we specialise in would be Automotive, Business / HR, Financial / Banking / Accounting, Games / Entertainment, IT, Marketing / Communication, Medical, Sciences, Technical / Engineering / Manufacturing, Tourism / Travel / Hospitality, Education / Training, Energy / Utilities, Entertainment / Gaming, Government, Graphic Arts, Industrial Automation, Information Technology, Legal / IP / Patent, Literary, Marketing / Communications, Medical / Pharma / Healthcare, Science / Research, Software, Telecommunications and Other.