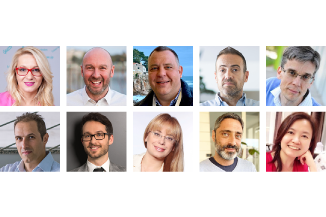 2019 Slate of Candidates for the Elia Board of Directors
Ten inspirational Elia Members have stepped forward and submitted their candidacy to join the Board of Directors when the current term ends in October.
Each passionate candidate brings a wealth of expertise to share with Elia and the wider language community. We're delighted to have attracted such high-calibre candidates to help steer Elia into the future at such an exciting time for the association.
Voting opens on 17 June 2019 and Elia Full Members will be contacted directly about the election process and to cast their vote.

The Candidates!
Alina Birsan

AB Language Solutions




Romania
Why I would like to be on the Elia Board of Directors
Dear all,
I would be honoured and thrilled to serve to our association's development both by sharing its beautiful core values and contributing to new approaches.
I have been working in this industry since 2005 though I graduated law and management, discovering my passion for multiculturalism and connecting different people from all over the world.
Something like a "Jack of all trades" I took all possible hats, from translator and interpreter to founding manager and I have reinvented my company 3 times during these years, always driven by passion (for languages, technology and networking).
The moment I attended my first Elia event I utterly fell in love, again, with our industry and the seamless way our association allows knowledge to be shared, fostering cooperation.
Now it's a perfect opportunity to repay the warmth and energy I have been receiving each and every occasion since joining this beautiful family.
I have faith that my enthusiasm combined with my hands-on experience, creativity, energy, ambition and eagerness to learn can qualify me to take on such an important position.
What qualifications and skills I would bring to Elia?
My qualifications and skills:
strong entrepreneurial spirit with proven skills
solid, creative thinker able to learn, adapt and change in line with 21st century challenges
powerful networking skills (99% extrovert 🙂 )
permanent curiosity for knowledge and technology business solutions
fresh mindset, good vibes generator
Richard Brooks

K International Ltd




United Kingdom
Why I would like to be on the Elia Board of Directors
It is my long held belief that the language industry creates an enormous amount of value for the world economy. To realise this and help further professionalise our industry the work that Elia does is invaluable. It is a very well respected association and I would love to be part of its future development.
I contribute to a number of boards and advisory panels outside of our industry. I feel it is important to gain a wide view on things when developing strategies and tactics. I have not sat on an industry board for two years and would like to contribute again formally to the industry (this time via Elia).
My company has been coming to Elia conferences since 2010 and I have many very close friends among the members. It really would be an honour for me to sit on the board of such an incredible organisation. I greatly admire Elia for the work they have done on and promise to uphold its values.
What qualifications and skills I would bring to Elia?
I have worked in the language industry for the past 25 years. Working in roles such as; project management, DTP, sales, senior management, governance and more recently as an investor.
I worked with the Association of Language Companies in the USA from task force member, board member and executive board member. Stepping down as my company re-branded and I was looking to pursue my own academic interests in the UK.
In the UK I advise several academic and non-academic organisations on the latest sales, marketing and business trends. I hold an MBA and regularly attend various international management schools to keep my knowledge up-to-date.
I would bring to Elia a well-rounded international education, 25 years experience in our wonderful industry, a passion to contribute to our industry and senior board level industry experience.
Jerry Froggett

Cintra Language Services Group Ltd.




United Kingdom
Why I would like to be on the Elia Board of Directors
I am a strong believer in the value created by partnership, and Elia is a perfect example of how partnership delivers on behalf of a community. When I entered the language services industry, nearly four years ago, I had moved from something completely different, and as such needed to learn fast. Elia provided me with the opportunity to do just that, and whilst I'd certainly not describe myself as an industry expert, my knowledge and understanding of the language services industry has grown exponentially as a result of the experience gained through attendance at Elia's events and the resulting opportunities for discussion with Elia colleagues.

Membership organisations are however about much more than just the chance to discuss business with others when we meet together. They have a wider role to play in representing Members' interests, both nationally and internationally. Language services is still by definition a 'young' industry, and in my view hasn't yet fully found where it sits in the global business mix. As LSP's we face regular challenge from those who see us as just as an unnecessary cost, or a necessary evil, rather than what we should be seen as which is as providers of a valuable professional service which adds value on a daily basis to our clients and to end users. I often feel LSP's don't sit comfortably against other professional services providers, and we need to change that. As such, Elia's mission fits my own personal aims well, as it is inherently important that LSP's throughout Europe have a strong European association to support them and above all to represent their interests.

We live in a rapidly changing World. Technology is of course an exciting tool, but also a threat to the way in which many LSP's operate. Now more than ever is the time for Elia to lead the debate amongst Members and the industry in general as to how we must continue to embrace new technologies to benefit us, just as we must ensure our individual organisations are fit for purpose and relevant, not just for today, but for the challenges we will continue to face, and above all the opportunities we will continue to encounter in the future. The value of partnership can help us to achieve that, and Elia is a perfect facilitator for it.

What qualifications and skills I would bring to Elia?
I have 26 years of business experience, in two very different industries, originally in Aviation and then more recently in Language Services. For the first 22 years of my career I worked within the UK and European regional airline industry, having initially joined on a management fast track programme after completing my honours degree at the University of Leeds in 1993. I was elevated to the main Board of the airline as Director and Company Secretary in 2011 and took part in the successful sale of the business two years later. Following a two-year spell working for and running my own aviation consultancy practice, and seeking a new business challenge, I joined Cintra as Director and Chief Executive Officer in 2015. I currently serve as a Director of Cintra Group's three language services Companies, both in the UK and Poland, and as such, I firmly believe that I have the necessary skills and experience of operating at Board level to bring the requisite levels of support, challenge and oversight to the Elia Board.
Mário Júnior

AP PORTUGAL




Portugal
Why I would like to be on the Elia Board of Directors
I am eager to engage the full range of my experience and expertise to promote and further the interests of the language services companies community. I share Elia's mission to accelerate our members' business success. Our mutual goal is delivering quality language services to end clients by exceeding their expectations. I believe that by doing so we can escalate our businesses and the growth of the industry together, fostering stronger and positive working relationships between language service companies and independent language professionals that work side by side.
I hope I can join Elia's Board of Directors, to assist the community, in the best of my abilities, in providing relevant learning networking opportunities, in sharing and implementing best practices and information and in furthering the interests of the language industry in general.
Representing our members' businesses to external stakeholders and bridging the gap between the academic and business worlds for the mutual interest.
I firmly believe one should never stop investing, improving or doing something new. We should make it your goal to be better every day, in some small way. Because I recognise that even small daily improvements eventually result in huge advantages. That's what the Kaizen concept taught me and I try to apply it both in my professional and personal life. "Today better than yesterday tomorrow better than today".
I embrace the values of cooperation and the association activity thus I count on the active involvement of every one of you, to promote the growth of our businesses and community and to foster our own personal growth. At the end of the day, we all have the same goal: the benefit and prosperity of the language industry.
What qualifications and skills I would bring to Elia?
Born in Africa, raised in France and living in Portugal, multiculturalism in my DNA. I'm the founder & CEO of AP Portugal and a professional translator and interpreter since 1998.
I've always been passionate about management, and that's why I signed up for the Management Development training program by the Kaizen Institute. It leveraged the tools to improve my skills in working as a team, I started developing as a basketball player in my early years. I believe in continuous improvement in team development and management focused on the role of the leader, to stimulate the management and daily improvement of teams. I want to bring the Kaizen principles to the table.
I feel that my activity on both sides of the industry helped me grow the proficiency required for the job I'm applying to. I strongly believe international collaboration and association activity is essential to progress and improve the future for all.
I'm enthusiastic about ISO quality standards to ensure our business satisfies internationally recognized procedures and market needs. I can assure you I'll do my best to meet the expectations. I know that trust must be earned and I hope that my character and competence will earn yours.
Stephen Lank

Cesco




United States
Why I would like to be on the Elia Board of Directors
It's been a privilege to serve on the Elia board as Treasurer for the past 2 years, and working alongside such a dedicated team has been very rewarding. But the time has flown and I feel like I am just getting started and have so much more to give. We have gone through a lot of changes in this period and are now seeing the fruits of this labor, and I would like to continue to help the association grow and expand benefits for our members.
I am a firm believer in Elia's mission to help our members grow their businesses by emphasising the importance of relationship-building over competition and creating opportunities for industry colleagues to openly and honestly discuss issues important to us all in a collegial atmosphere where we can feel comfortable speaking our minds and learning from each other. This warmth and openness is a key part of Elia's appeal and makes us different from other associations, so we must work to maintain that.
What Elia does with our Focus events is unique in the industry, as they aim to address and develop all roles in our organisations, not just the C-level (as is the case with most industry events), and I would like to help strengthen and expand those events.
Academic outreach has started to get a lot more attention in our industry lately, but Elia was way ahead of the curve with our Exchange initiative and it is important for us to continue to build upon it and lead the way. Our industry has an obligation to mentor and train those entering the field to ensure that they have the tools to succeed and that we have the pipeline of qualified professionals we need to run our businesses, and Exchange is the perfect platform.
I'd also like to see more outreach from Elia to our interpreting colleagues, as they are an integral part of the language services industry and deserve a voice in and support from Elia. We have made some progress there, having had our first interpreting-specific track at the ND in Vienna last year, but I would like to see that expand even further and will keep pushing for that if re-elected.
It would be an honor to serve on the Elia board for a second term and I will dedicate myself fully to the task if you see fit to put me there.
What qualifications and skills I would bring to Elia?
Elia Board Member & Treasurer since 2017, which has given me a deep understanding of the needs of the association and its members, as well as of the time and energy required to fulfill board duties.
Working in the industry since 1987, covering virtually all roles including translator, PM, vendor manager, sales, operations management and executive management for companies in the US, Ireland and Spain, so I understand the industry and the needs of our members from a business perspective as well.
Since 1998 I've volunteered my time with ASTM to help develop quality standards for the language services industry.
Since 2015 I've been a lecturer at the University of Maryland in the Graduate Studies in Interpreting and Translation programme.
Since 2015 I have been actively working as an advocate for the language services industry, focusing on the importance of world language education and the positive impact of our industry on the world's economies.
MA in Spanish Translation and Interpreting from the Monterey Institute of International Studies.
I believe this combination of training, experience and volunteer work gives me a 360 degree view of our industry that would be an asset to Elia.
Filippo Rosati

Lexyca




The Netherlands
Why I would like to be on the Elia Board of Directors
Having being a member of our association for the past couple of years offered me the invaluable opportunity to broaden my knowledge of the translation industry throughout all its aspects, and gave me the true privilege to get acquainted with fascinating peers and colleagues: by being elected as a member of Elia's Board of Directors, I feel I would finally – and gladly – be able to give something back for our inspiring community.

As the language industry constantly faces an ever-changing and increasingly dynamic environment, I strongly believe that the 'human' factor will be an essential key for succeeding both as an association and as a business. Sharing knowledge, insights, and best practices to forge leadership with confidence, along with providing a platform for effective and pleasant networking through the whole industry chain, can really make a difference and deliver actual value to members. This is what I have learned, Elia advocates and stands out with its commitment.

My experience in the language industry has spanned from being an educated specialised (freelance) translator, up to eventually founding and managing a boutique translation agency. As a born Tuscan established in the Netherlands after having lived in several European countries, I can conjugate dedicated and passionate perfectionism with a witty spirit and a critical – yet creative – thinking.

I consider serving Elia and its members as a Board Director as a challenging opportunity and a unique chance to jointly contribute to the further development of our association and the deployment of its values, with the eagerness and excitement to actively learn from other experienced Board members.

What qualifications and skills I would bring to Elia?
As I have been active in the translation industry for around 25 years now, I have gained a well-founded insight of the industry processes and roles, developing strong project management and strategic skills. I firmly believe in the value of building and maintaining relationships using a personal approach. I am a seriously committed and success-oriented person, with the ability of leading while diligently working in a team and thinking outside the box.

I truly think that my competencies can qualify me as one of the next Board member.

Gregor Rosulnik

GORR




Slovenia
Why I would like to be on the Elia Board of Directors
Because I simply love people, talking with them, listening closely, getting to know each other, understand and appreciate one another. Feeling their feelings, sharing our thoughts, ideas, passions…living the dream, together. And I believe Elia is all about that. Elia is here because of the people for the people. I simply need to be part of this family. I believe I have a lot to give. Let me bring in new, fresh wind, youth, passion, laughter and much more. Let's make the future better together.
What qualifications and skills I would bring to Elia?
Above all positive attitude and passion in everything I do. The first three skills in the LinkedIn profile are Teamwork, Business Strategy and Management. I had spent all my life in sales and marketing, but my dream came true when I first opened my own business and embraced the entrepreneurial spirit.
Tetyana Struk

Linguistic Centre® Translation and Localization Company




Russia
Why I would like to be on the Elia Board of Directors
It is too easy to get stuck in a routine. After all, we are creatures of habit. But in the language industry, with its quickly changing landscape, new services and new professions emerging almost every day, sticking to your routine can be a disaster for all stakeholders.
The industry suffers from a lack of well-trained talents; the academia feels frustrated as they feel more and more acutely that they are failing to catch up with the new developments; students and young professionals feel abandoned and helpless; and seasoned pros feel they are losing ground.
A lot of traditional methods are used to find the solution; however, the results are not visible yet.
Inspiration and creativity can equip all of us with tools required to achieve new results through new ways.
Two decades of my experience running a successful business in an unconventional way,changing the academic landscape in the country and triggering the changes in translators' training in the neighboring countries, launching and running initiatives that not only hit the professional goals, but bring fun and happiness into the lives of participants. I will use this experience to make activities in Elia both professional and entertaining.
I have the drive, enthusiasm and skills to add new sparkles that will make Elia irresistibly attractive for new talents and will make you proud to be the part of the industry.
What qualifications and skills I would bring to Elia?
Tetyana Struk is a founder and CEO of Linguistic Centre® Translation and Localization Company (Lviv, Ukraine), a lecturer and a translation technology consultant for academia, an author of books on translation, and an advocate for professional growth in the translation and localisation industry.
A pioneer of Ukrainian localisation, Tetyana brought change to the Ukrainian academic landscape by introducing the first Localisation and Translation Technologies programs in 2006, and she continues making transformational changes in academic training of translators to this day.
She is a regular speaker at various international and local conferences.
Tetyana is the author and co-author of the Everything is Ahead and The Translator's Patchwork Quilt projects, and is an organiser of conferences and numerous online events aimed at promoting and developing the profession.
She is a Member of the American Translators' Association, the Globalization and Localization Association (GALA) and the European Language Industry Association (Elia), National coordinator for Elia Exchange.
Author of university course books Introduction to Industry-Specific Translation and a book of interviews with Ukrainian translators entitled Everything is Ahead: Listen to Our Success Story Today. Tell Your Success Story Tomorrow. Co-author of the Translator's Patchwork collection of translators' stories.
Manuele Vecchi

Aglatech 14 S.p.A.




Italy
Why I would like to be on the Elia Board of Directors
During the last two years I had the pleasure to serve the Association and contribute to its events, in particular to the Focus series.
There are still many initiatives that I would like to see realised for the good of the Members.
This is why I'm asking for your support and your vote!

What qualifications and skills I would bring to Elia?
A long-lasting experience in the industry and a real love and dedication to the Association.
Shirley Yeng

Successglo Pte. Ltd




Singapore
Why I would like to be on the Elia Board of Directors
Our team at Successglo based in Singapore and China has been partner for European LSPs since our China offices established in 2014 and Singapore office in 2016. We are grateful for the opportunity and wonderful conversations we have all these while with our trusted partners in Europe and we want to give back by contributing our time and energy to nurture a closer community in Elia. After attending GALA, Elia and the recent EUATC Conferences in 2018 and 2019, I do realise that there are still gaps which we could address as an association:
Similarities and differences between Asian language handling and European language handling. Clarity established helps to improve the conversations that our European LSPs would have with end-clients in Europe and USA, debunking the myths of Asian languages hard to understand and therefore may hinder end-clients to expand their business in Asia. Thereby, helping European LSPs to go the extra mile of providing global language support and know-how to their clients.

Improve the recurring membership signups and recruiting new members due to new insights of Asia being shared with members throughout the year! The world just become closer than they think and they will find Elia not just with European focus in-depth support but also global knowledge support.
Initiation of active community building among similar roles and responsibilities such as sales & marketing community, PM community, resources building community etc. This will help to boost our Elia members teams' performance based on genuine support from each other and knowing they are never alone in the journey.
What qualifications and skills I would bring to Elia?
Being brought up in a country such as Singapore, the melting pot of different Asia and Western cultures and races, I have for the past 29 years of my career been exposed to working and business culture for Singapore, China, Japan, Germany and US-based corporates which I have personally been working in from internationalisation software engineer to technical consultant to vendor manager to PM, Account management, sales and ops.
Bachelor in Computing from Monash University and post-graduate of Marketing from University of Bern, Switzerland have helped to make me understand deeper in global perspective of markets' needs.
Strong communicator, problem-solver, trusted advisory roles in management responsibilities. Community member of Women in Localization, Singapore Chapter. Personal passion in mission trips and church sunday school volunteering.