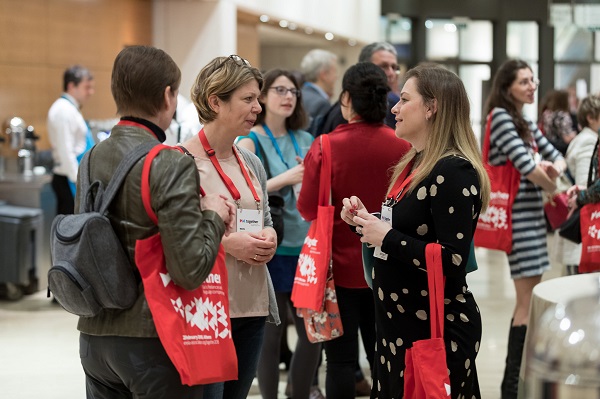 All Together in Athens 2018
In February 2018, language service companies and freelance language professionals met in Athens to learn, network and party at the third edition of Together. Athens was a fantastic choice of setting for Together, the conference with a mission to bring the language industry together. The fun and friendly atmosphere that Together has aimed to foster since its inaugural edition in Barcelona two years ago was continued in Greece.
Together's 2018 mission was simple: to strengthen our industry by bringing language service companies and independent language professionals together in a positive, collaborative environment. The theme was Specialise to Excel, with three tracks moderated by experienced industry professionals: Specialisation, Trends and Technology
This year saw an enhanced agenda, too, with the third year of the Together Fair – a marketplace-style networking session – and a Networking Dinner and Disco that proved once and for all that language professionals are no wallflowers. There was also the introduction of a new event App!
The results from the post-event survey are now in, and we're grateful to all the attendees who shared their feedback, which is extremely valuable as we plan for 2019's edition. We also want to congratulate the winner of our survey response draw: Rebecca Radovanovic. Congratulations Rebecca!, who will receive a complimentary ticket to Together 2019.
The survey says
Significantly, the opportunity for Networking cannot be understated, with a clear majority highlighting it's importance in the survey and further emphasising it during the specific feedback. Also, the Networking events; the Together Fair and the Networking Dinner got positive feedback with (70% and 79% respectively) were either very satisfied or satisfied with these.
We were also delighted to see that the overwhelming majority gave the event organisation the thumbs up also, with particularly high scores going to the venue, registration process and location. This year saw the introduction of the Together event App, which in general got positive feedback including suggestions to make additional information and functionality available via the App next year.
We also received some clear feedback on the colour-coding of the attendee lanyards, which is on the list for improvements for next year. Location wise, we also received some clear feedback on the suitability of Athens as a location and that many of you had challenges reaching the city, we thank you for this constructive feedback and will incorporate this and all your other suggestions into next year's event planning.
Here are some of the comments from attendees:
"This was my first Together and I was really impressed!"
"Inspiration from successful, dedicated and highly professional fellow translators"
"The communication, venue, catering and networking opportunities were all excellent. In fact, of all the conferences I've been to, I thought that Together offered the best networking opportunities. Everyone was so friendly and willing to share ideas and the Together Fair was an excellent way of coming into contact with potential clients in a relaxed environment in which we could all chat openly. As someone who is a natural introvert, I was actually surprised by how much I enjoyed networking at this event!"
"Great event! I enjoyed very much most of everything. I am very happy to have joined Elia, it brings incredible insights"
"The app was a great addition!"
"That contact with other members of the industry is more essential than I realised as a freelancer in terms of knowledge sharing and professional development"
We are now busy working on 2019's edition of Together. Keep tuned in for further updates and announcements in the coming weeks!