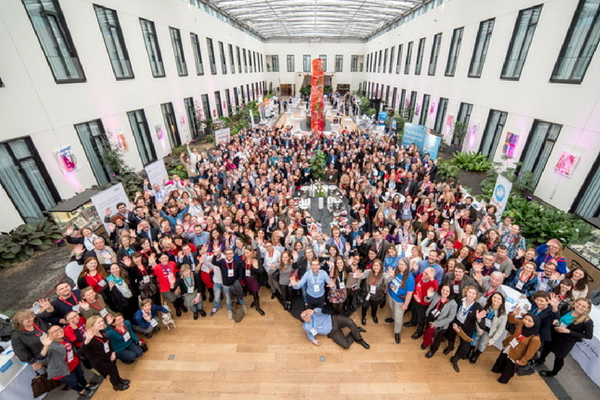 All Together in Berlin
In February, language service companies and freelance language professionals met in Berlin to learn, network and party at the second edition of Together.
The once-divided city was a poetic choice of setting for Together, the conference with a mission to bring the language industry together. Not even spectacular thunderstorms could dampen the fun, friendly atmosphere that Together has aimed to foster since its inaugural edition in Barcelona last year.
Together grew in 2017, with 388 attendees from 38 countries, compared with 350 last year. This year saw an enhanced agenda, too, with the addition of the Together Fair – a marketplace-style networking session – and a Networking Dinner and Disco that proved once and for all that language professionals are no wallflowers.
The results from the post-event survey are now in, and we're grateful to all the attendees who shared their feedback, which is extremely valuable as we plan for 2018's edition.
The survey says
Significantly, word of mouth was by the far the most important channel for attendees to hear about Together. With 31% of attendees at the inaugural event in Barcelona, this highlights the event's positive reception and reputation from the outset.
We were delighted to see that the overwhelming majority gave the event organisation the thumbs up, with particularly high scores going to the venue and general organisation (98% were either very satisfied or satisfied with both).
Most attendees told us that their top priorities for attending Together was to network, so we were pleased that the networking opportunities overall scored highly (93% were either very satisfied or satisfied), and that the two specific sessions – the Networking Dinner and Disco and the Together Fair achieved good scores (88% and 78% respectively). With the latter two being new additions for 2017, we're grateful for the suggestions on how they could be improved. For next time, we'll ensure that the Networking Dinner is more affordable and will also add further networking opportunities, as the Fair was very busy throughout.
As regards the programme content, most (75%) gave this their wholehearted approval.  Judging by the diversity of responses to the question "what did you take away from Together", there was something in the programme for everyone. For instance, several attendees told us that the Machine Translation panel session had given them a new perspective on MT. Others reported that they have already started using the technology tools presented, or are planning a joint training session for project managers and freelance language professionals.
Here are some of the comments from attendees:
"Great organisation and impressive overall balance. Learning from last year (already brilliant), more time was devoted to more structured networking events, and the Together Fair was a fantastic idea. This is how a professional trade event should look like in any industry. Luckily we have Elia for us translators and language service companies!"
"Fantastic event! It greatly exceeded my expectations. Excellent balance of fun networking opportunities and a wide range of interesting presentations. I will come back!"
"I appreciated so much how everyone was just sharing their views and giving insights into their way of working, without an agenda of what is 'strategically smart to let the other side see. Knowing a little more of what goes on behind the scenes on all sides makes everyday cooperation so much smoother and more pleasant and 'eye-level'."
"I was sceptical about whether it would be worth attending the event but I was surprised at how much I learned, how it helped me to clarify certain things for myself, and that I was able to make new contacts with like-minded people and really build bridges with a few."
We're grateful for the many suggestions for future topics, and we'll certainly consider attendees' suggestions to introduce interactive or practical, hands-on sessions.
We also asked you where 2018's edition should be held – Athens, Barcelona or Dublin? We do have a winner, but have some details to confirm before we're able to tell you all. Stay tuned!