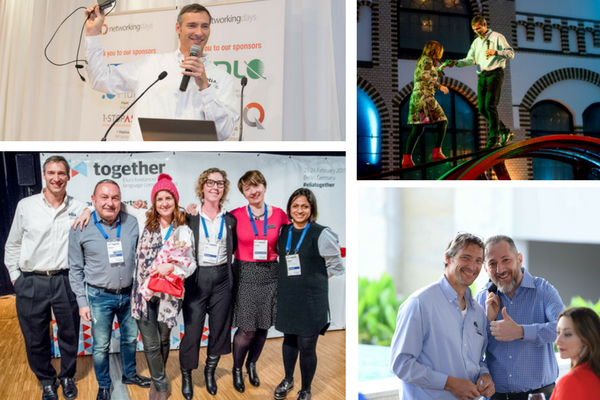 Arrivederci John, not goodbye!
After ten years of dedication to the association and our members, this week we bid a fond farewell to one of our key players: John Terninko. Thank you for everything, John. We will certainly miss you!
A farewell message from Elia President, Françoise Bajon
In the life of every individual, there are chapters. It is the same for organisations.
Today, we are closing an important chapter of our history as John Terninko is leaving Elia to fare other seas.
John has been successively the Executive Director and then the Events Manager of Elia for ten years. He has helped shape the association and significantly contributed to its development. He has always been very dedicated, has put a lot of energy and time into organising quality events, and has been a key player in developing the Elia network.
In the name of the three Presidents of Elia, Roberto Ganzerli, Renato Beninatto and myself, of all the successive board members, the Elia Team as well as all our members, I thank him warmly and wish him success and fulfilment in his new position.
Françoise Bajon
Elia President
And a few words from John
Sitting at my kitchen counter (otherwise known as my office), thinking about what I wanted to write to you about my time at Elia, one well-worn idiom came to dominate my thoughts – all good things come to an end. How cliché… unoriginal… but how appropriate.
It has been ten years since a friend from an Italian class in Rimini told me of a fledgling association in need of a native English speaker with organizational experience. The founders had devoted a great amount of their personal time over three years bringing their dream to life and the time had come to bring someone in which would allow Elia to really begin to grow. Some four hundred members and twenty-four Elia events later, I can honestly say that classmate and that conversation changed my life.
I've been honoured to work closely with and learn from the thirty-three past and present Board Members who have volunteered with the purpose of helping to better the association. I've met an incredible number of members, each with their own story and experiences I've been privileged to listen to. And I've been lucky to spend my time, daily, working with people I like and respect.
It has, however, been ten years. Just as the association has grown, evolved and headed in new directions, I am also ready for a change. For this reason I have accepted a position at Memsource as their Events Marketing Manager. I'm very much looking forward to working with them and the challenges of a new position and environment. Fortunately, this means that I will probably see many of you at one industry event or another.
It has been my great pleasure to get to know and serve you all of these years. It may seem strange, but I feel compelled to thank you. Thank you for you for being a part of what has been such a meaningful part of my life.
John Terninko