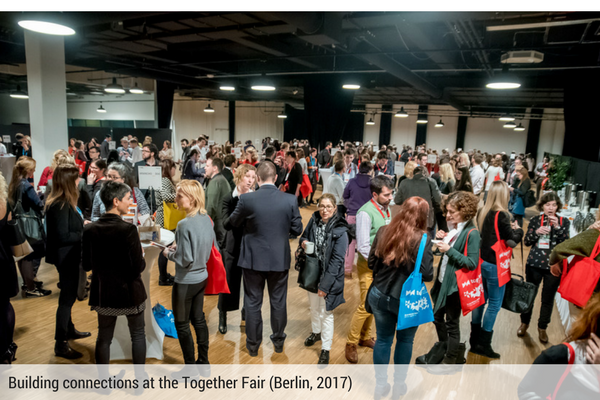 Become a Founding Member!
Elia's newest membership initiative is Elia Engage, an interactive forum for language service companies and independent professionals to connect and join forces with the ultimate goal of better serving end clients, strengthening the language industry in the process.
Companies and individuals who believe in the power of positive working practices are invited to sign up as Founding Members before 31 May 2017 and help shape the development of Elia Engage and its activities.
What is it?
Elia Engage is an interactive forum for companies to meet and develop connections with skilled independent language professionals and, together, establish best practice for enduring long-term, mutually beneficial partnerships. This is your chance to connect without needing to wait until the next Together event!
Founding Members who signed up as early adopters were given the opportunity to vote on the name that they feel best symbolises the initiative's goals and aims. The result is Elia Engage, previously known as Elia Connect.
How will it work?
Elia Exchange will be a led by a Committee, with independent professionals and language service companies represented equally. In due course, a number of working groups will be set up to focus on developing key areas of best practice for both parties. Founding Members will have the special opportunity to help shape Elia Engage and its activities from the ground up.
What do I get by becoming a member?
All Elia Engage members will get a profile on the Elia Engage website to promote their services, the opportunity to communicate across borders, access to resources and services and more. In addition, individuals will receive a 10% discount to attend future Together events. Further benefits will be introduced once the Committee and workign groups start getting down to business!
How do I sign up?
Elia Full Member companies simply need to sign up and commit to the aims of Elia Engage and actively support positive working relationships.
Membership for independent language professionals such as translators, interpreters, localisers, consultants and project managers costs €110 for 12 months, but by joining as a Founding Member by 31 May 2017, you'll enjoy access for just €90 and for an extended period – up to 31 December 2018.
Why do only independent language professionals pay?
Elia Full Member companies receive access as part of their annual Elia membership fees, so for independent language professionals, joining Elia Engage represents a cost-effective way to enjoy benefits that will help you achieve success and fulfilment in your business. These include:
10% off Together registration

The chance to

promote your services to language service companies that want to develop strong, positive working relationships

Access to additional opportunities within the language industry to support your career development
To find out more and to sign up as a Founding Member, visit elia-association.org/elia-engage. We look forward to working with you and strengthening the industry together!