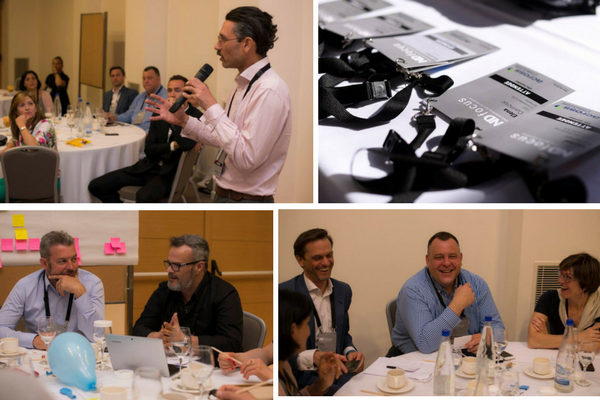 CX: a big opportunity for growth
Following his sterling work as moderator at our recent business retreat in Crete, Neil Payne presents the key opportunities identified in the Customer Experience as a Growth Strategy track.
As workshops go, this must be up there in terms of one of the most productive I have been involved in. Having differentiated between customer experience (CX) and customer service, created customer journey maps, carried out profiling of key clients, explored how to measure success and set KPIs, the group also applied learning to their own businesses through plans, ideas and a renewed sense of purpose.
If I am not mistaken, all the attendees who started the workshop had no CX strategy; at the end, the vast majority were going to adopt one in the short-term once back in the office.
Perhaps the biggest accomplishment by the group, and most appropriate to be shared with the rest of the Elia members through this blog, was in spotting the opportunities that existed in adopting a CX approach as a business strategy for growth.
Here are some of the key opportunities they identified at the second ND Focus – Elia's networking days for Executives.
Differentiate yourself from the crowd
Providing good CX is an instant and, in some cases, easy way of standing out from the competition. In a very crowded and ever-growing marketplace, CX is a clear and clever way of making your company that bit better than the rest.
Stay innovative
Adopting a customer-centric approach, which CX teaches, is about listening to your customer, knowing them and offering them experiences that bond them to your company. The listening helps you gain insights into changes in the market, opportunities, new demands and how you keep yourself not only current, but ahead of the curve.
De-commoditization of translation
A common complaint many a language service company (LSC) has whispered in the corners of Elia conferences is that buyers tend to see translations as a commodity. Providing amazing CX is a simple, yet brutally effective way of removing this label on LSCs and translation agencies, realising their true worth and value as partners rather than just 'the translators'.
Build longer -term relationships
Through coming to know your customers you can start to personalize your strategy with particular clients in terms of their experiences of your company. This allows you to really build on the relationship whether commercial, personal or a mix of both which will organically lead to longer-term prospects or at least the chances of them being broken, a lot more difficult.
Develop brand awareness
The good PR that can come from providing good CX will help project your brand to a new level. Being associated with something different, quality and stand-out marks you and your brand as something special. Being associated with things other than 'translation' is key to giving the brand a personality.
So, take your peers' advice and perhaps dedicate some time to exploring what the CX approach can do for you?
Freelance translators, interpreters and linguists take note – Customer Experience is not only for the big players, it is for everyone who has a customer. Everything above applies to you, too!
A big well done to everyone who attended the Customer Service track on your hard work, inspirational ideas, amusing stories, excellent energy, vision and for making the balloon popping team game so much fun.
Neil Payne started his career as an English teacher in the Middle East before attempting and failing to become a freelance Turkish to English translator. The failure led to him setting up a successful translation agency which he ran for 12 years before leaving the industry. He now runs a niche cultural awareness training company, Commisceo Global, as well as spending far too much time in his greenhouse.