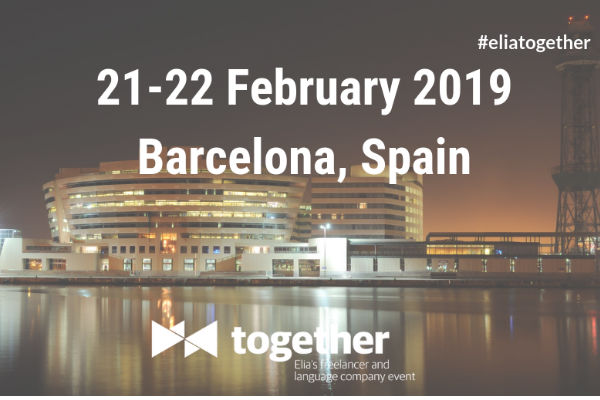 Elia and ProZ.com Partner to Broadcast Together 2019
After a successful partnership in 2018, Elia and Proz.com will be joining to broadcast the fourth edition of Together – our annual two-day event with a mission to strengthen our industry by bringing language service companies and independent language professionals together in a positive, collaborative environment. The event provides an open dialogue on industry trends, covers mutually-relevant new approaches, updates on technical skills and, ultimately, develops lasting relationships to serve our end clients better. The theme for Together 2019 is "Mastering Digital Transformation" and the event will take place in Barcelona (Spain) on February 21-22.
Through this partnership, Elia and ProZ.com will once again bring Together to a wider online audience, enabling more translation professionals to benefit from Elia's best-in-class content.
Arancha Caballero, Elia´s Together Event Committee Chair, said "The content from Together is very relevant to any of the language industry stakeholders; as much as we would like to have them all in Barcelona, broadcasting the event is the next best thing to being there in person. We are very pleased to have ProZ.com onboard again to contribute to the expansion of the knowledge that all speakers are willing to share."
Drew MacFadyen, VP of Sales at ProZ.com, comments on the partnership: "ProZ.com is pleased to be able to once again bring the world-class content that is Elia Together to the world's largest network of language professionals at ProZ.com. At ProZ.com we continue to focus on providing translators with tools and opportunities to improve their work, while providing speakers and language industry subject matter experts with opportunities to reach a large global audience."
To find out more about Together 2019 click here: http://events.elia-association.org/together-2019/together-live-streaming/