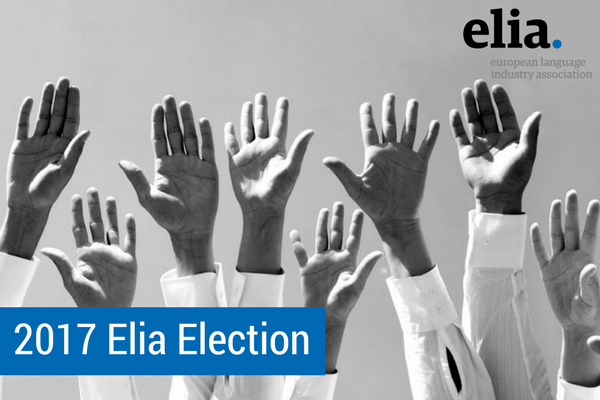 Meet the Candidates for the Board
Seven inspirational Elia Members have stepped forward and submitted their candidacy to join the Board of Directors when the current term ends in October.
Each passionate candidate brings a wealth of expertise to share with Elia and the wider language community. We're delighted to have attracted such high-calibre candidates to help steer Elia into the future at such an exciting time for the association.
Voting opens on 7 June 2017 and Elia Full Members will be contacted directly about the election process and to cast their vote.
In the meantime, you can get to know the candidates here: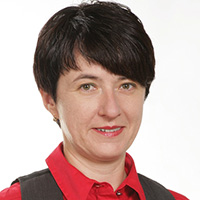 Gordana Antonijević
IOLAR
Slovenia
Why I would like to be on the Elia Board of Directors
I strongly believe in one of the early Elia slogans: "Get Together, Grow Together". Elia Members come from different countries in Europe and beyond. While we are dealing with various language pairs, in companies of different sizes, and have a wide range of diverse experiences, we have a lot in common. We are in the same industry, using the same technologies, coping with the same industry trends. So, who else than we Together can promote the language industry and raise its visibility in the business world. And all this while Growing our companies and enhancing our business. Getting together in Elia we learn from each other, we exchange experiences, we present our case studies, supporting initiatives we all believe in – and this is what I like in Elia, this friendliness of peers, among which many of us have found not only business partners, but great colleagues and friends as well.
I represent IOLAR, a company with more than 40 employees and offices in four countries. I have been part of the company ever since its beginnings which means that I have not only been involved in its establishment and development from the outset, but have also been constantly working on its growth and expansion to new areas and markets. I have already put in practice all these experiences and knowledge I have gained in IOLAR and use them in my current term as Elia Board Director.
So, my qualifications and expertise, my knowledge of the industry, my organisational skills and my previous experiences and all new invaluable experiences from my current term as Elia Board Director is what I can continue to contribute to the future growth and development of Elia. And an important "ingredient" as well – my enthusiasm for working with those who share the same passion for being creative, innovative and ready to embrace changes and develop new concepts – with people in Elia Board (and the ones who ran for the Board).
I'll continue to support and encourage stronger involvement of Elia Members in different initiatives and committees.
Qualifications and skills I would bring to Elia
After graduating in computer science I entered the language industry as a software tester and a software engineer at the very beginning of localisation in Slovenia. Due to my organisational and managing skills and IOLAR's plan for growth, I took on the task of establishing and managing big new projects like translating for EU institutions in 2004. With plenty new business development ideas and with an enthusiastic approach to team-work I moved to the upper management, where my current responsibilities are: account management of large key clients, chairing TTT Conference Organising and Programme Committee, leadership of IOLAR's EU project team, consulting IOLAR's ISO 17100 certification team and administration of IOLAR's and TTT's Facebook page. As Elia Board Director I was a member of Organising Committees for Focus for Exec Mallorca, ND Brussels and Together Berlin, where I also chaired the Programme Committee. Currently I am the ND Bucharest Committee Chair.
I have been part of IOLAR ever since its beginnings and have gained extremely valuable experiences in the process of its creation and growth. These experiences combined with those gained during my current term as Elia Board Director would certainly prove to be a great asset for the Elia Board.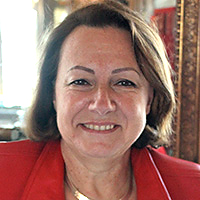 Françoise Bajon
Version internationale
France
Why I would like to be on the Elia Board of Directors
Elia has been a wonderful experience in my life. It has allowed me to get to know so many interesting people. It has offered me a 360° view on the industry, from all continents, but especially Europe, all types of companies serving all sorts of clients in very different manners.
As President of the association, I have assigned myself the goal of supporting all our members through various initiatives. Not every one of them fits every company, but through their variety, I have aimed to support every company in at least one aspect of their business. I have imagined and designed Elia Exchange for companies interested in developing relationships with the academic world, in charge of preparing the human resources that are at the core of our activity. I have pushed for the development of our "specialised" conferences: the Focus series (Execs, Project Management, Sales and Marketing) and Together, the event for strengthening relationships between freelancers and language service companies (LSCs). I hope I have succeeded in bringing value to every member in at least one field of their activity.
All these initiatives still need to be strengthened to be sustainable. That is why I am running again for the Board. Those who know me are well aware that I am not running for power but for achievement. Alongside the consolidation of the already-launched pillars, I'd like to add some more to help our members and also the industry as a whole.
Our industry is pivotal to business in the world and yet it is not recognized as such. I will work to achieve greater visibility and recognition, and for this we will need to involve other organisations so that our global voice can be heard.
I thank in advance all those among you who will trust me again for leading this wonderful association. I encourage each of you to get involved in some way: I can assure you it is the best way to get the most out of it!
Qualifications and skills I would bring to Elia
* Owner and Manager of Version internationale since 1990, a translation company based in France.
* President of Elia since 2011
* Member of the LIND group of experts at the EU, representing Elia and the European LSCs, contributing to organising the Translating Europe Forum, liaising with the European Master in Translation Board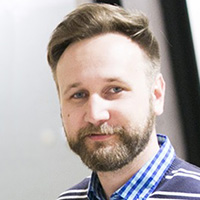 Matic Berginc
birotranslations
Slovenia
Why I would like to be on the Elia Board of Directors
I see Elia as an organisation that is created by language companies for language companies. That being said, I strongly believe that for any organisation's success every company needs to voice its own interests and desires, while Directors have the role of initiating the topics of discussions, opening certain issues, accumulating the opinions and trying to convert them into actions. Elia has walked a tremendous path from its beginnings and there is still so much to discover and do. Being part of Elia Board of Directors means giving my "five cents" back to the community of translation companies and the whole industry that I have enjoyed being a part of for the past 20 years.
Qualifications and skills I would bring to Elia
Though, I don't have a degree in languages, I have always been interested in becoming a translator. I speak Slovenian and English and understand German and Croatian/Serbian. I have a BA in International Relations and I am now enrolled in MA TCLoc (Masters degree in localisation) at University of Strasbourg (part of which is also a TEKOM Certificate for Technical Writers).
I have been involved in the translation industry for almost 20 years, either as a translator, project manager, head of project management department and subtitling division (training junior project managers), vendor manager and now as a general manager overseeing all aspects of work within the company. Though (project) management is a skill that one mainly masters through experience, I believe life-long (formal) education is also very beneficial to grow personally as well as professionally.
I hold TILP Level 1 Certificate, Certificate for internal auditor for ISO9001 and EN15038 (I have also implemented ISO9001 and EN15038 processes in our company) and I am now enrolled in MA TCLoc (planning to obtain the degree in January 2018). My areas of interest are: CAT tools, vendor management and relations, management in general and marketing.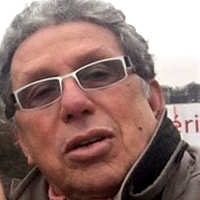 Giacomo Grassi
Aglatech 14
Italy
Why I would like to be on the Elia Board of Directors
To be part of a very dynamic Association
To contribute to the success of Elia
To learn more from the colleagues of the translation industry
Qualifications and skills I would bring to Elia
Long management experience in high level position in different industries (pharmaceutical, optics)
Strategic vision, management skills
Creativity and innovation culture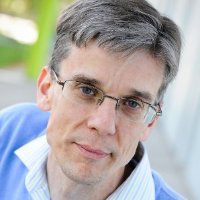 Steve Lank
Cesco Linguistic Services
USA
Why I would like to be on the Elia Board of Directors
Not to sound overly dramatic, but I think I can safely say that, after a career-long search, I have found my tribe with Elia. Since my first Elia ND in 2015, I have engaged more and more with Elia to find out what it is really about and what I have discovered is that my first impression was correct – Elia is the real deal. It is an association that focuses on the success of its members, emphasising the importance of relationship-building over competition, and creating opportunities for industry colleagues to openly and honestly discuss issues important to us all in a collegial atmosphere where we can feel comfortable speaking our minds and learning from each other. This has always been my personal vision for the industry and I am thrilled to have found an association that really gets it.
So, I am running for the Elia Board as a true believer, to do what I can to help further the mission. I believe I am a good fit because I have deep experience across a wide variety of language service companies (LSCs) which has exposed me to all aspects of the industry and given me a unique and valuable perspective that will serve the membership well. I am passionate about connecting people, nurturing relationships, and fostering cooperation, which is at the heart of Elia's mission. And, as those of you who know me are aware, I firmly believe that the freelancer-language company relationship is the cornerstone of our industry, so I am an enthusiastic supporter of Elia Together and am currently working to help develop it further. I also believe that our industry has an obligation to mentor and train those entering the field to ensure they have the tools to succeed, so this year I took on the role of National Coordinator for the US for Elia Exchange. While the role is still relatively new, I am hoping to serve as a bridge between academic institutions and language services companies in Europe and the US. I would also like to see more outreach from Elia to our interpreting colleagues, as they are an integral part of the language services industry and deserve a voice in and support from Elia. If elected I will make this a priority.
It would be an honour to serve on the Elia Board and I will dedicate myself fully to the task if elected.
Qualifications and skills I would bring to Elia
I have worked in the language services industry since 1987, starting out as a freelance translator and project manager. After earning my MA in Translation and Interpretation for Spanish from the Monterey Institute of International Studies, I went directly into language company work and have been doing that ever since, subsequently holding senior management positions in the US, Ireland and Spain. During this time, I have developed deep knowledge of all aspects of the localisation project life cycle and a keen awareness of the importance of forging strong company-freelance relationships. From 1998 to 2011, I served as chairman of the ASTM International subcommittee that developed and published the ASTM F2575 Standard Guide for Quality Assurance in Translation and currently lead the drafting committee for the newest update. I am also an adjunct professor in the Graduate Studies in Interpreting and Translation program at the University of Maryland, teaching courses in translation as a business. Finally, I have relevant experience with the rigours of board work, having served as secretary of a local non-profit helping disadvantaged seniors and co-chair of the Colorado Association of Professional Interpreters, so I know what I am getting myself into.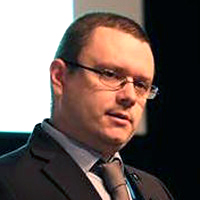 Ilya Mishchenko
Literra Translation Company
Russia
Why I would like to be on the Elia Board of Directors
Over the course of the 10 years that I have been in the industry, I came to realise that its development depends to a large extent on how much the stakeholders are willing to share their expertise to help it move forward. The educational and partner programmes that my company has been running with several universities in Russia and abroad contribute to nurturing future industry talent and I believe that I can take this effort to a new level with the help of Elia and its members whose involvement I am willing to facilitate. I am also confident that my experience in standardisation will benefit the association's initiatives in this area.
Qualifications and skills I would bring to Elia
I have been in the industry for over 10 years, starting with the position of a translator / project manager and progressing to senior management positions of leading Russian language service companies (managing both production and sales). As member of the Translators Union of Russia, I coordinate its standardisation efforts and co-chair the ISO Standing Committee at FIT (International Federation of Translators). I have organised Translation Strategy conference in the past and co-organise St. Petersburg Translators' Club now. One of the joint projects that originates from the latter is a project management course for students of several Russia universities. I have also been Elia Exchange National Coordinator for Russia since last year.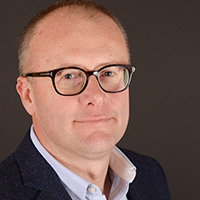 Geert Vanderhaeghe
Lexitech
Belgium
Why I would like to be on the Elia Board of Directors
Like for my contribution as a moderator at the Elia event in Mallorca in 2016, I see my potential role as an Elia Board Member as a two-way street. On the one hand, I can bring my experience of a relative outsider to the table and with a background which is in contrast with the language industry where many business owners built their companies from scratch from a background as translator. I was in a different industry (finance), working for large companies and in different regions for a quarter century. Also, I have taken up the challenge to go into a different sector only a short time ago, and this experience can also be helpful to the group. At the same time, I know there is still a lot to be learned for a 'newcomer' such as myself and this role can bring a lot to my company and myself. Finally, I have met quite a few very nice people in my interactions with Elia and I have found the spirit quite cordial and cooperative.
What qualifications and skills would you bring to Elia?
My skills can be summarised as follows:
– Negotiating skills: I have managed a number of relatively important (financial) transactions in different parts of the world and have dealt with various problems and issues at senior level during my life in corporate and investment banking
– Entrepreneurial skills: I took over Lexitech in 2015
– Technical skills: admittedly, these are more in the field of financing and business economics than in translation for the time being