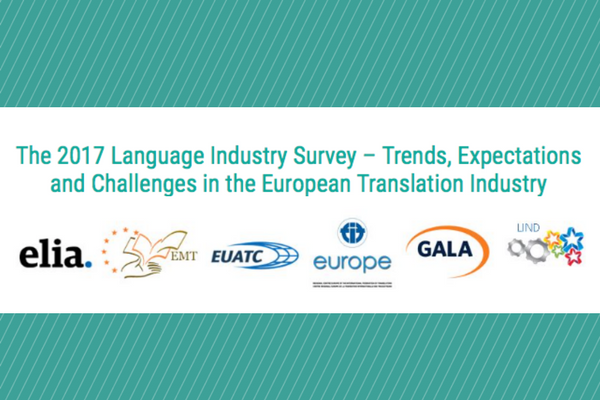 The state of the industry
The results of the 2017 Language Industry Survey, a collaboration between Elia, European Master's in Translation, EUATC, FIT Europe, GALA and LIND, have been analysed and the report is now available.
The aim of the survey is to capture the trends that are shaping the European language industry today, providing vital insights to help you in your business.
The addition of FIT Europe broadens the scope of the survey to include independent language professionals and has contributed to the increase in responses with 866 responses from 49 countries (including many outside of Europe), compared to 445 responses from 35 countries last year.
Thank you to everybody who took part and shared your views and experiences on the trends, expectations and challenges facing the industry.
The results
Like last year, we see that respondents tend to be long-established, with 81% of language service companies and 48% of independent language professionals in the industry for more than 10 years.
Most of the companies that responded are considered small, with 35% of companies reporting sales volumes of less than €250k, which is higher than last year (23%). 31% report sales of €250k – €1m, 6% less than last year, and 34% report sales above €1m which is also 6% less than last year.
The majority of professionals report annual revenue of less than €25k, but it's unclear what this indicates i.e. if some are not active full-time or other factors.
Verticals
The top vertical for 2017 for both companies and independent professionals is legal services, which language service companies also reported last year.
For language service companies, the focus on specific verticals seems to be largely dependent on size. This is particularly visible in the high volume verticals manufacturing and automotive, where the larger companies seem to be more active, while legal and financial services are more often served by the smaller segments. For the other domains, the tendency is less clear.
Activity and sales
There seems to be an optimism with respect to activity and sales: companies report that 2016 delivered on expectations, and that they missed their target by only a few percent motivating companies to set their activity and sales expectations for 2017 even higher.
Interestingly, there seems to be a correlation between those that work for end clients vs. those that subcontract and company growth in 2016 for both companies and independent professionals, with the best results for those who get 50%-75% of their business from end clients.
Independent professionals that work only for direct customers (the 100% category) saw their growth decrease in 2016.
Challenges
Price pressure remains challenge number one, as it has always been since the start of the survey in 2013, followed by positioning as the second highest challenge.
Independent language professionals are as concerned as companies about price and time pressure and see fewer issues relating to strategy and branding.
Trends and concerns
As in 2016, machine translation is perceived as the dominant trend (30%). Language service companies give the trend as many positive as negative marks (similar to 2016 survey, though somewhat less positive), but individual language professionals mark it three times more often as negative than positive, regardless whether they work as independent professionals or in a translation department.
Price pressure (23%), which in 2016 was at the same level as MT, is the second obvious trend, but with 7% less votes than the number one. Needless to say that not many respondents have marked this trend as positive.
Competition (13%) completes the top three, just as last year, but is ticked mainly by independent language professionals. Only 8% of the companies indicated competition as a major concern, which can be considered as a remarkable sign of confidence.
Want to know more?
Join us for a deep dive into the results at ND Focus – Elia's networking days for Executives on 4-5 May in Chania, Greece. A few places are still left for this business retreat for language industry leaders, which will focus on Mission, Vision and Execution and Customer Experience as a Growth Strategy. You can find out more here.
The full results are also on Synergy, Elia's dedicated platform for Members.
Simply go to elia-association.org where you can access Elia Synergy. Please enter the username and password you received when you first became a member. If you are unsure of your password, please email info@elia-association.org.
Thank you once again for taking part in the survey. We hope you find the information valuable and that it helps you as you realise your business ambitions.