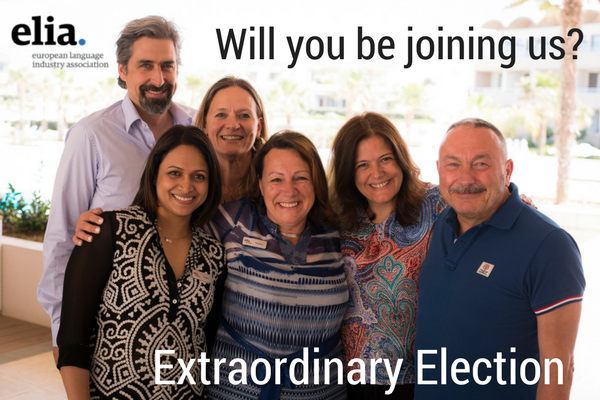 It's time to get involved!
You have all probably heard the news from two of our Members that Technicis has recently bought Arancho Doc.

As Roberto Ganzerli left Arancho Doc after the buyout, we've had to call an Extraordinary Election to find a new Elia Director. We're sorry to let Roberto go, especially as he was one of the Founding Members of Elia. But, we are also looking forward to hearing from the next generation of Elia Directors.
What's involved?
Our Board of Directors are a team of volunteers who share their time, experience, and insights to help develop Elia's events, initiatives and role in the language industry. By joining the Board, you'll get the chance to contribute to your professional development, give back to the industry and share your expertise, and have unique access to industry leaders to support your company's business development.
How do I get involved?
If you'd like to know more, you can also have a look at the Elia Board of Directors Code of Conduct, which will give you further details about the role and the responsibilities that come with it.
If you'd like to apply, keep an eye on your emails. We'll be sending out info to all of our Members on how to submit your application. If you're employed by a Member company and would like to give back to the language industry, we'd love for you to get in touch. The Call for Candidates will be open until Monday, 23 October.