9 March 2022, 16:00-17:00 CET
Speaker: Christian Denzer, Director, MG Denzer GmbH
Indemnity insurance for language service companies is a necessary expense to protect against the "I hope it never happens to us" event. For years, Elia has been looking for an insurance broker that could cover Elia member at a competitive price. We finally found MG lingua, based in Germany. One year into the partnership, a number of members have purchased policies from this broker and we've (Elia) inquired why they decided to abandon their previous plan in favor of our new partner. The simple answer is price and services.

Join this webinar to learn more about MG lingua: why they now specialize in the translation sector and why you should be insured and what advantages they provide.
Denzer GmbH has been providing specialist insurance to language service providers (LSPs) as an independent insurance broker since 1990, which means that we have been acting as a neutral and independent business solely in the interests of our clients for 30 years now. A wealth of experience you can benefit from during our cooperation, based on transparency and trust.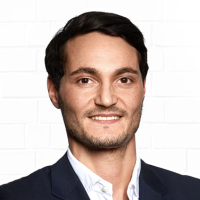 Christian Denzer
The innovative player who joined the company after graduating with a BA, Christian is enthusiastic about uniting the tried and tested and the future under one roof.