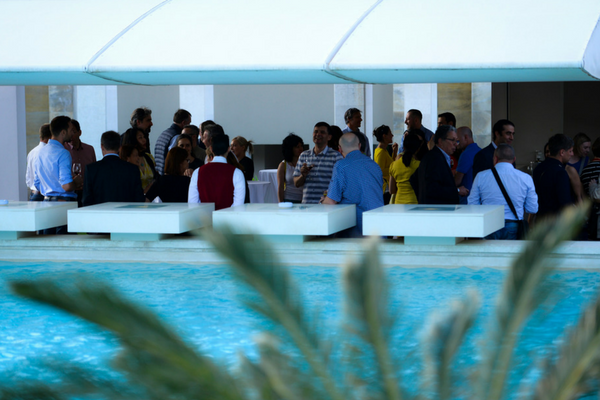 Executives share feedback on our 2017 retreat
We've now collated the survey results following the second edition of ND Focus– Elia's networking days for Executives, which took place in Crete, Greece on 4-5 May this year.
Of the total 74 attendees, we had approx. 40% response rate and received a Net Promoter Score of 58. That is a healthy result and means that the majority of respondents would actively promote the event to their friends. Here are some more details of what this year's attendees had to say:
Event organisation
ND Focus– Elia's networking days for Executives has been one of our best-received events in terms of organisation, with 100% satisfaction ratings for both general organisation and the registration process (80% of respondendts were very satisfied in both cases). A few commenters would have liked to spend more time outside, and we'll certainly bear that in mind as we plan for sunny Sicily.
Networking
The primary objectives for those who joined us in Crete were 1. Building connections and 2. Meeting other language service companies, so we were glad to note that the networking opportunities scored highly (93% were satisfied or very satisfied). We received some suggestions for improving next year's networking sessions, such as holding the Networking Dinner closer to the hotel, and will certainly take these into consideration, too.
Programme content
There were two tracks to choose from: Customer Experience as a Growth Strategy and Mission, Vision and Execution. All respondents found their track relevant (100% scored both tracks as either Excellent or Satisfactory), and gave the two moderators the thumbs up. Most (86%) found Customer Experience as a Growth Strategy useful for their work, while 100% took away actionable insights from Mission, Vision and Execution. Generally, it was felt that there was a good balance between learning and discussion (80% agreed), and there were useful suggestions for what participants would like to see on the programme in Sicily. These included talent development, tracking operational and financial KPIs, and the psychology of change.  
All in all, we were very grateful to receive such positive yet constructive feedback. This will help us to make next year's event even better, and look forward to receiving more comments like this one:
"ND Focus – Elia's networking days for executives is the ideal getaway to achieve success: friendly atmosphere, relevant topics, relaxed networking and professional insights under the spring sun"

A Save the date for Sicily will be sent shortly, but in the meantime, take a look at moderator Neil Payne's excellent article on the opportunities discussed in his track, Customer Experience as a Growth Strategy.