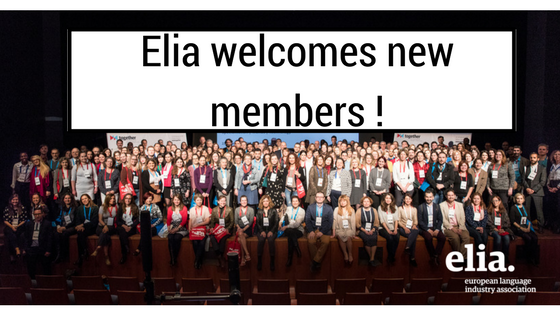 Welcome Elia new members! Delighted to have you on board
Since the start of 2018, Elia has had 18 new member companies join our worldwide community. We are delighted to welcome these new members to Elia!
These new members recognise the value of Elia membership; an environment of open dialogue for all, where members connect, exchange and form partnerships with companies that have a business focus on Europe, acquire and develop skills, and for representation of the sector to the EU and other bodies. Everything we do is designed around the needs and priorities of language service companies and the prosperity and growth of the industry.
New Elia Members Q1 2018
One Tongue, Egypt
Tulka, Finland
Stentor, Croatia
Eurologos-Thessaloniki, Greece
LTES, Greece
Lexsys, Germany
Oversætterne, Denmark
DS Interpretation, USA
TDR Translation Company, Italy
Get IT Languages Solutions, Poland
Consell Translations, Hungary
Amado Translations, Latvia
Nuna Localization, Turkey
Prolingua, Romania
BCS, Turkey
SuccessGlo, Singapore
Intertranslations, Greece
Technica Translations, Ukraine
For a full list of current Elia Members, visit the Our Members page. Find out more about Elia Membership benefits.